Software Updates
Thursday, 14 March sees the latest partypoker software update, which brings with it a raft of new features.
Short Deck
Short Deck poker hits the client.
This exciting cash game format is played with a reduced deck of cards, with all cards below "6" removed, leaving 36 cards to play with. The game plays almost identically to Texas Hold'em, except a flush beats a full house and there is no small or big blind. Instead, everyone pays an ante (in addition to a button ante) to help generate action. This is a game that has increased in popularity in the high stakes world and now we're bringing it to the masses.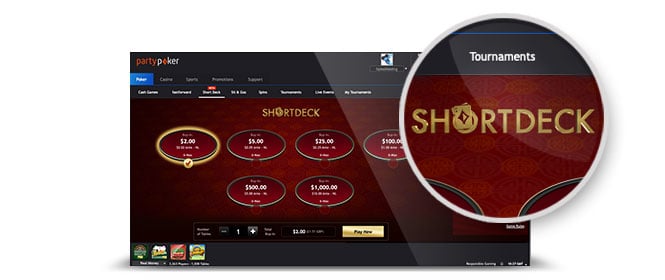 Short Deck lobby
Multi-select categories
Players will be able to multi-select tournaments filters once they have downloaded the new partypoker software, allowing them to select multiple category options from the tournament lobby.
For example, players can now select "Monster Series" and Power Series" simultaneously, and all the multi-table tournaments from these categories will be displayed.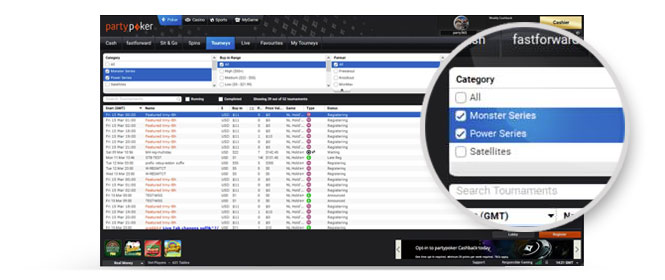 Multi-select categories
Buy-in changes for tournament filters
The buy-in filters have been slightly tweaked to represent the stake ranges as follows:
'Super Micro' changed from $0.01 - $0.99 to $0.01 - $1.99
'Micro' changed from $1.00 - $4.99 to $2.00 - $4.99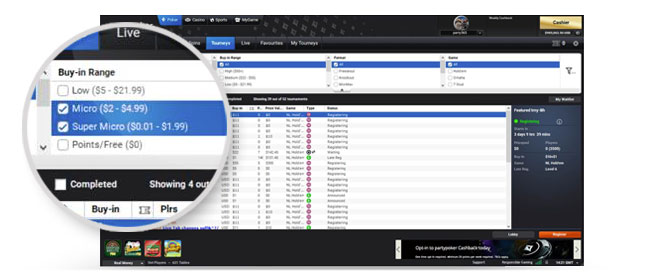 Tournament Filter update
Coloured tournament & fastforward names (tournaments lobby)
Prefixes and suffixes of tournament names are displayed in different colours to allow players to identify various tournament parameters such as tournament name, tournament series (if any), guarantee (if any) etc.
Download
New oval table
The latest update sees the introduction of the new oval table, combined with updated player plates and layout.
If you're a fan of the racetrack view you will be pleased to know that this remains an option under table themes.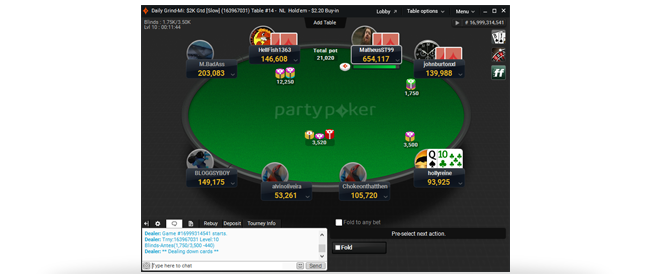 Oval table
Modern player plates
Player plates have been updated to display chips and screen names more clearly. Chip values are now larger and brighter, with the increased visibility allowing for easier multitabling.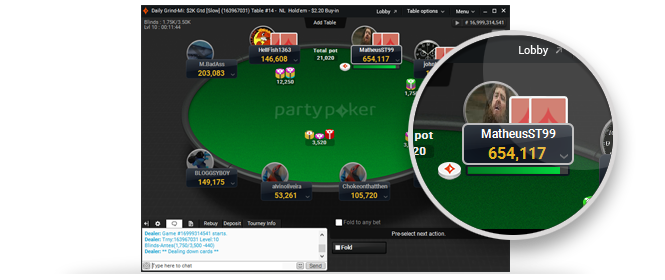 Hole cards are now easier to distinguish, and you have the option to display hole cards side by side by turning off display player image under table themes.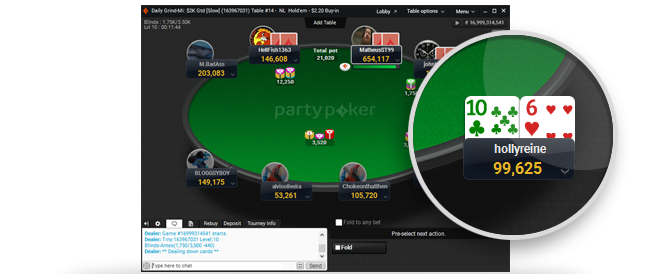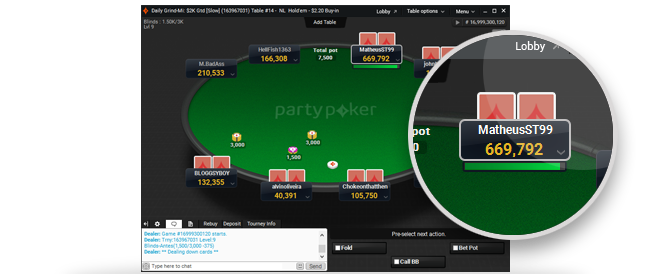 Improved player notes
You now have the option to colour code your opponent's player plates making players you have notes on much clearer. In addition to this, hovering over aliases now allows you to view player notes without opening the note panel, allowing quick, detailed viewing of all player notes on a table.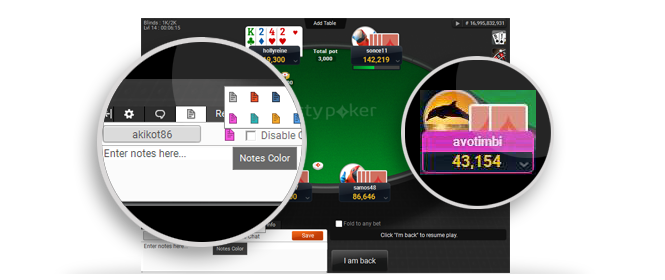 Player notes
New card decks
Card decks have been updated to work with the new table theme. You can select from one of the following via the theme tab, under 'Settings':
Classic (Default)
Inverted
Modern
All options will be available in both 4-colour & standard deck variants.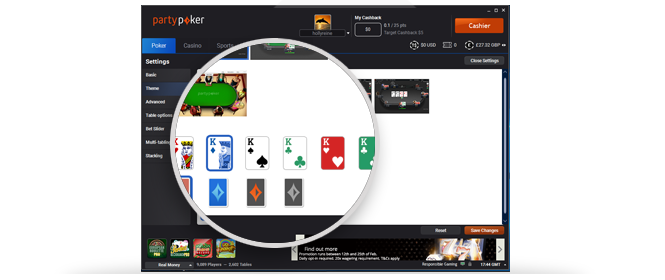 Card deck customisation
New navigation and filters
The collapsible filters allow you to clearly and quickly apply your new settings and to find the games you want to play.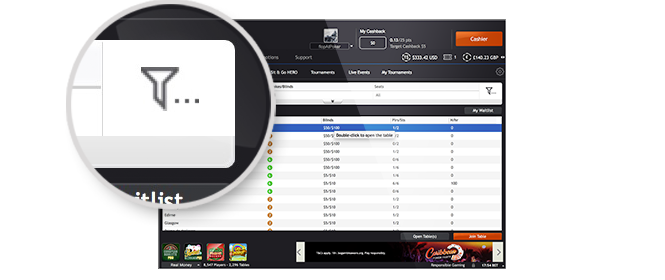 New navigation and filters
Additional data points in cash game lobby
There's now more information readily available to players looking to join a cash game! Stats such as the average pot size and the percentage of players seeing the average flop are now clearly displayed in the lobby.
New Darker lobby & table theme
Overall, the contrast improves the readability and visual appeal of key information. In addition, the actual gameplay experience is further enhanced by a traditional green felt table and a more prominent player plate, indicating the player's turn.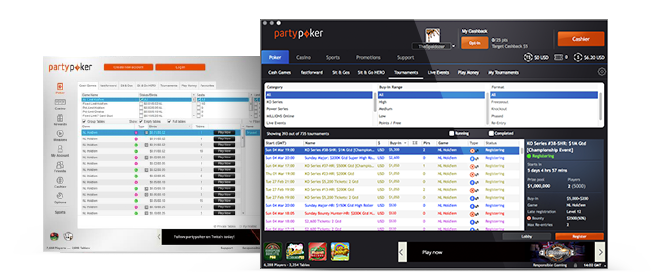 New partypoker lobby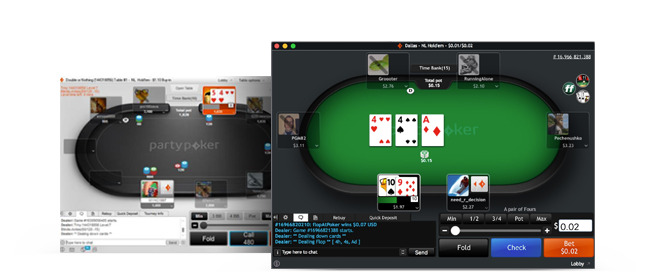 New partypoker table
New navigation and filters
By removing the left-hand navigation and relocating secondary information into a dropdown menu, we've created a wider area in which to display game information in a more accessible, visually-pleasing way.
Players will have more immediate access to T$
The play money lobby has been updated with the same navigation as the real money lobby to provide a more authentic experience.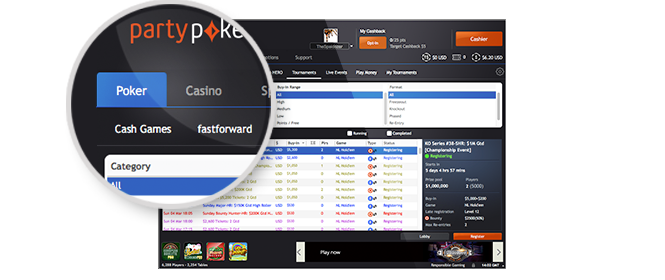 New navigation and filters
New & improved casino
The new format provides a more personalised gaming experience by allowing players to see their recently played games and gives them the ability to mark their favourites for quick and easy access.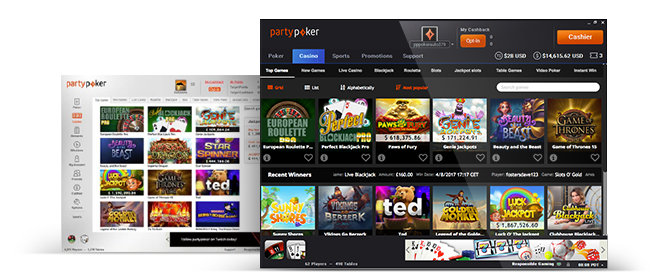 New partypoker Casino lobby
Improved Sit & Go Jackpot lobby
We've made it easier for players to differentiate between 3 and 4-handed games, whilst also giving them the option to select more than 4 games.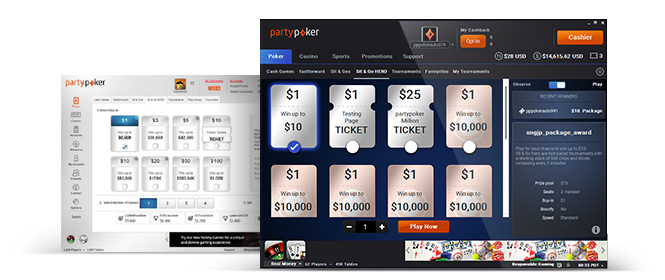 Improved Sit & Go lobby
Easier My Account Access
A dropdown menu right from the username (rather than the previous left-hand navigation) allows players to quickly access their My Account and Loyalty Rewards info.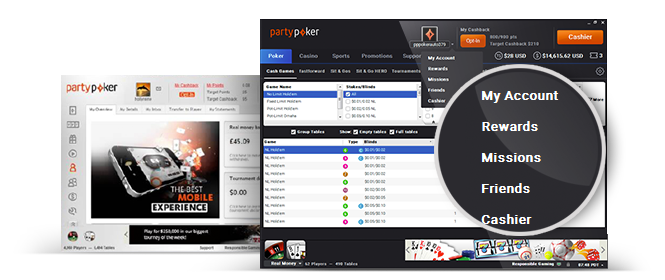 Easy account access
Removal of One-click lobby
Due to its unpopularity amongst players, the One-click Lobby was removed and replaced with this simpler, cleaner option that's easy to navigate and visually appealing.
Enhanced security enabled on local machine
Depending on your computer's operating system you may need to allow for security checks. If the flagged file has the name PL.exe, it is our software and can be trusted.